Green Zone Training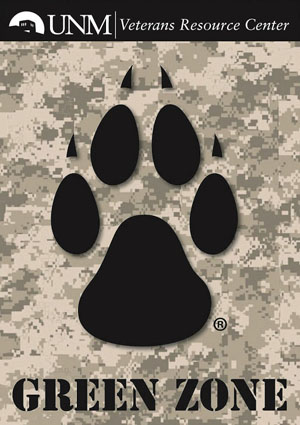 The Veteran & Military Resource Center offers the Green Zone Training Program for the UNM community. In line with UNM's commitment to create a challenging and supportive environment for its students, the VMRC is committed to actualizing that environment for military affiliated students by empowering the members of our community who can best help them transition from military service to university life.
Green Zone Trainings prepare university faculty, staff and students to better understand the experience of veterans, service members and their families at UNM. Participants will be able to better communicate the strengths, challenges and unique needs of our military affiliated student population. They will also be better equipped to refer those students to appropriate services when needed. Individuals who complete the Green Zone Training are visibly identified by a "Green Zone" Lobo paw print. Similar to the "Safe Zone" program of the LGBTQ Center, the Green Zone paw identifies allies to the military community and helps foster a supportive environment at UNM.
Why do we need Green Zone Trainings?
UNM has over 1000 identified veteran and military students on campus. Many of these students face unique challenges as non-traditional students who are older, have families, or are making a change in their career. Some might have disabilities—both visible and not—or transition issues that make the classroom environment more challenging. We know that when veteran and military students are given the resources to excel, they do just as well if not better than their civilian peers; we want to encourage that support and ensure that every one of our veterans and military students have the opportunity to succeed.
By the end of this training participants will be able to
 Describe the demographics and diversity of UNM veteran and military students.
 Discuss the military experience, including the emotional cycle of deployment, the challenges of transitions from and back to civilian life, and the experience of military family members.
 Summarize the unique strengths of veteran and military students.
 Explain how Post-Traumatic Stress Disorder, Traumatic Brain Injury, Hearing Loss, and other disabilities can affect the student's experience, and suggest services for support.
 Determine what to say and what not to say to veterans to be most supportive.
 Identify which support services military affiliated students want from staff and faculty.
 Identify and explain VMRC services for military affiliated students.
 Identify the types of military educational benefits and student responsibilities.
 Appraise what to do in difficult scenarios when working with veteran and military students.
Contact Matt McDonald at mmcdon@unm.edu or Alonzo Maestas at amaest77@unm.edu or the VMRC at (505) 277-3181 for information and inquiries.